Nothing is a waste of time if you use the experience wisely. ~ Auguste Rodin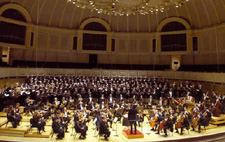 Once again, on the air doing my morning radio show in Connecticut, and talking with my newsman after his newscast. I happen to mention that one of the things I'd always wanted to do, was to conduct a symphony orchestra.
you know, we all have our "before I die, I'd like to..." list.
Well, it happened that the actual conductor of the symphony orchestra in my city was a listener of mine (I didn't know it at time!) and he happened to be listening when I made this comment.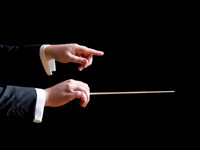 He called me and asked if I meant what I said. I said abso-freakin-lutely! Then, he offered me the chance of a lifetime. For me, a dream come true! The symphony had a concert coming up in a couple of weeks and he would love to offer me the chance to be a guest conductor for the finale! Needless to say, I JUMPED at the chance.
We arranged for me to attend a rehersal and I showed up not knowing what to expect.
Now I had conducted the "pep" band in high school, but trust me, that's NOTHING compared to a symphony orchestra!
The orchestra, like the Boston Pops, always ended their concerts with a John Phillips Sousa march called "The Stars and Stripes". It's a very familiar march that most people know, even if they don't know the name.
So the conductor introduced me to the symphony members and explained things to them. They were all great sports and loved the idea. I told them that while this was a REAL thrill for me, I had extremely limited experience at this, and I'd be having some fun with the audience during the piece, so don't necessarily follow my conducting!
So, we tried a rehersal. It was amazing. I was actually able to keep up. I knew the way to conduct the 4/4 time tempo from my "pep" band stint. But the funniest thing was at the end. Now, if you know the march, it has a big finish. Well, I wasn't paying attention, and when they reached the last bar, I kept going. They were used to the ending, but being professionals, they followed the conductor!
Problem was, the conductor wasn't following ANYTHING! hahaha!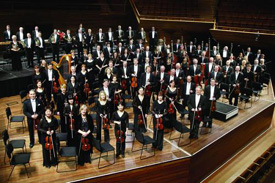 We got through it and fixed a few things, but I kept reminding them to just play the song, and pay limited attention to me!
On the night of the concert, I was in black tails! Woo Hoo! I looked like a real conductor! I had talked about this on my show before hand, and they had sold a bunch of tickets to fans of my show, so in a way, I guess I had "stacked" the audience! The symphony orchestra was great. They played their regular show and then it was time for the "Grand Finale!" The conductor introduced me, and on I walked from the wings of the stage! The audience broke into applause as I approched the podium. It really WAS one of the thrills of my life.
I said a few words, thanking the Symphony orchestra for this amazing opportunity. Then, it was time! The conductor presented me with a special baton which he had engraved with my name and the date! I was FLOORED! It was SO special! I took the podium, bowed to the audience once again, and then turned to face the orchestra. My heart was beating at 1000mph! The musicians must have seen the look on my face. They all smiled at me, which made me feel right at home! It was time... I raised my baton, and they raised their intruments. (What a power trip!) Counting off in my head, and mouthing "..two, three, four(upbeat)" We were off! The sound of that orchestra was one I can still hear to this day!
I kept conducting, but managed to turn to the audience to play off of them now and then. Getting a laugh each time. Finally came the big finish. but THIS time I was ready for it! Cutting them off just at the right moment!
The audience broke into thunderous applause. They loved it! I turned and bowed and then turned back to acknowledge the orchestra. As I turned to them, THEY were applauding me too! ha!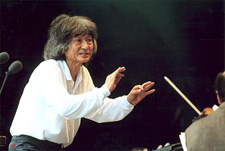 All in all, a marvelous night. I'm no Seiji Ozawa...
but it truly was an amazing moment
and an incredible experience.
Flying in a B-52
Conducting a symphony orchestra
Wrote a children's book
Jay SINGS?!
Jay-On The Air!
Back to 'experiences'