Love is patient, love is kind.
It does not boast, it is not proud.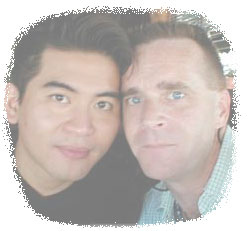 It is not rude, it is not self-seeking,
it is not easily angered,
it keeps no record of wrongs.
Love does not delight in evil,
but rejoices with the truth.
It always protects, always trusts,
always hopes, always perseveres.
Love never fails.
-1 Corinthians 13:4-


A page of LOVE

When Rodney and I first met, I mean really met, he knew very little about me, then, according to the way HE tells the story, he read my journal and my "about me" pages on this site. That is what convinced him to give me a chance and try and get to know me better. Because of that, I wanted to write him a letter, but thought I'd share it with you at the same time. I have written him several cards and notes "privately" of course, those will stay that way, but since it was this site that brought us close together, I thought I'd use this site to express just how deeply and strongly I feel about him....I do that, everyday, in my own words, but I want the WORLD to know.
So, since we live on a very flat, tropical island, without a single mountaintop to shout it from....

Rodney, My love...
I was reading over my "about me" page yesterday, and something occurred to me. I had written this:

"Above all else, I enjoy having fun! When you stop having fun....your dead! I've enjoyed the single life, but I think I was meant to be in a relationship. However sometimes, when I'm really in one of my moods, I think I'm more in love with the IDEA of "being in love", I've almost convinced myself that that "Knight in Shining Armor" is out there, but his path and mine may never cross. I really thought I'd found him once in my life and only once, but that, apparently, wasn't meant to be..."

To those detractors, who take great pains in telling us that... "it's too soon"... ..."you haven't known each other that long yet"...blah blah blah, let me say that if you have never truly been in love, you don't know what the feeling is. If they have never experienced the deep love that two people can share with each other, they are not to judge. Some people feel they've loved someone, but in the end it was not "true love". The kind of love that takes a hold of your heart, and doesn't let go. The kind of love where I can't bare to spend even a moment without you in my arms. My every thought and word is for you. You are my heart and my soul. You are the center of my universe and I wouldn't want you anywhere else but there. The warm fuzzy comfortable feeling I get when you're around or even when I just simply think about you.

I wrote that I had once loved very deeply and that is true. My love for Dan was a true love, but, after time, those feelings where not mirrored back. It didn't last. I don't regret a single moment of the time Dan and I shared together. I will always have him as my best friend, but that time has come and gone. You move on when you're ready.
I have found, in you Rodney someone who makes me feel SO special, someone who returns all the love I have inside to give. I have spent a long time looking for and hoping I might someday find that special person. Someone with whom I would not be afraid to share the love in my heart and someone that would keep my love as the precious gift it was meant to be. I know that someone, is you...
When you find that someone, you just know.
I wish I could describe it better. I have always had a way with words, but they fail me when it comes to trying to explain this feeling. It fills you up, it surrounds you, it swells with every beat of your heart. The room lights up when you walk in. You are the center of my universe and I get from the you the feeling that I am the center of yours.
I'm going to embarrass myself a bit more here, (like I haven't done THAT already all over this web site!) honestly, several times we've been talking about life...our lives, how much you mean to me and how much I love you, and I simply break down into tears. Please know that they are not sad tears in any way, they are tears of pure unadulterated joy! You fill me with so much emotion, it has to leak out somewhere, and it does in the form of tears of joy.
You entered my life a short time ago, and you have made me feel more and love deeper than even I knew was possible.
Is it so, that two people were "meant to be"" Is it possible that some higher power places a light in our hearts which burns for one person and when you find them, your torches combine to burn all the more brightly? There are so many things that make no sense at all about our meeting and getting to know each other. There are so many reasons that common sense tells us, should have never put the two of us together at this time, on this earth.
We're from half a world apart, our lives and lifestyles were so totally different. The idea that we would find each other, especially after "avoiding" each other for so long.
Well, to HELL with common sense, to HELL with the spaces that divided us for a time. We have found each other now. I know the love I feel for you can burn brightly enough to last a thousand lifetimes, each one of them spent with you at my side.



We came together just by chance.
Could it be destiny?
We weren't ready for this romance.
Why now destiny?

Who is this person they call "Fate"?
Can he be knocking at our door?
Sometimes he brings love.
Sometimes it is hate.
He gets the blame whatever the score.

Are you one and the same?
Upsetting our lives whatever your name.
If you are destiny or if you are fate.
You can leave now before it's to late.
Goodbye destiny.

He just won't leave.
What can we say?
He says not to tempt him.
So, get out of his way.

If he says it is so,
then it is meant to be.
Me with you and you with me.
Thank you destiny.


And one of my favorite pieces, and it says so much I want you to know...
If I speak in the tongues of men and Angels, but have not love, I am only a resounding gong or clanging cymbal. If I have the faith to move mountains but have not love, I am nothing. It is not rude, it is not easily angered. Love is patient, love is kind. It always protects, always trusts, always hopes, always perseveres.
Love never fails.
"You are here, in my heart, and my heart will go on and on.... "

I will always love you,
Jay
September 12th,2001